Virtual games on screen can be a real passion to many. With a wide genre of games, the gaming world has a lot to lure you. So if you are such game lover and in look for an interesting game, Pixel Gun 3D is the thing for you.
Pixel Gun 3D is a paid, multiplayer shooter offering loads of different
weapons, game modes and amazing quests for you to choose from . With an open,vibrant chat/messaging system, this game could expose you to almost
anything. But it does have a provision for objectionable contents to be reported. This app has been lately in the list of top ten paid gaming apps specifically because of its pixelated blocks that makes it way lot appealing.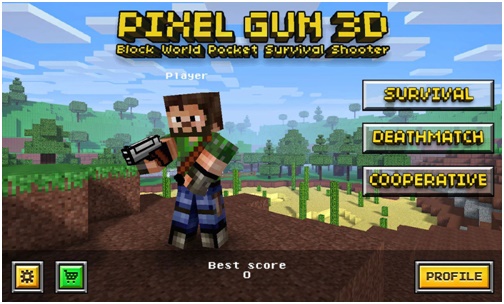 MODES:
Pixel Gun 3D comes in two interesting modes.
The Single-player Survival Mode:
This mode allows you to run around shooting the skeletons, ghouls, spiders and the zombies. Don't be surprised to find the zombies sneak up on you undetected, so be always prepared. The baddies out there in this mode are far more skilled than the real players and may eventually kill you, which otherwise is not a problem if ammo had not been limited. Once you run out of them you got to buy them with real money. Moreover, the controls in this mode may leave you frustrated. This mode is less entertaining when compared to the Multi-player mode.
The Global Multi-Player mode:
Being multiplayer globally is the most striking aspect that has contributed to this mode's wide-spread popularity. You run around a map killing other players with an array of weapons to pick from. The scores for your number of kills get marked in your scoreboard which decides the winner. In this mode, you also see a number of user created content such as player sprites or maps. You can play this mode locally with your friends or globally with players located anywhere.
DESIGN:
What makes the game very alluring is the fact that it is skinned with pixelated blocks. The game is so designed that the player enters the battlefield with nothing more than a pixelated handgun and he got to
shoot his way out of the tight scene. The various undeads including the skeletons, mummies and the zombies comprise of the same boxy bodies. Everything is so heavy in pixels that figuring out details of the monsters becomes really difficult in case they are up very close. There is also a Skin Maker section, where if you wish, can create a new skin from scratch or begin with an already defined character and customise it.
GAME PLAY:
The primer level that you start with somehow has the look of a zombie shooting gallery rather than FPS.You are then moved to the graveyard. Defend yourselves against the undead monsters there including the terrible zombies. Staying at one spot is not a good idea as moving about various spots help you in discovering different guns and additional hidden ammos. You can use guns like basic handgun, machine gun, sawed-off shotgun to name a few.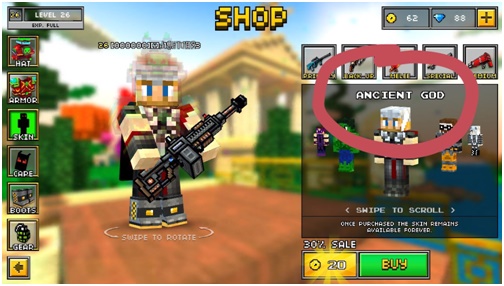 Survival mode has only one re-spawn elixir to offer. So once you die, you have to start it all over again. In the multi-player mode you can create a game with your choice of map and specifications  like number of players. If not, you can join a game created by some other player. Enter into the arena and kill or get killed. While survival mode has 10 challenging levels to choose from, the multiplayer mode has 9 different maps to pick from.
Download Pixel Gun 3D Hack APK and set about playing what you have just read above. Pixel Gun 3D Hack is created particularly for them, who bother to spend their free time playing. You can play this game in your Android by downloading it from the Play Store. If you have an iPhone or iPad get the game from your favourite Apple Store.
…